Cathedral Pines Metropolitan District has an existing mill levy of 19.000 mills obligated to pay off Debt (see Annual Report) and 19.000 mills to fund Operations and Maintenance within the District. At this time, there is no discussion on issuing any future mill levies. The Debt mill levy is set to stay in place until the obligated debt is paid off, current maturity date is set for December 1, 2046, and there are no anticipated increases. However, the District is hoping to decrease the Operations and Maintenance mill levy in the next couple years.
At this time, there is no discussion on any additional Long Term Financial Obligations anticipated by the District. Here is a summary of the District's current outstanding Long Term Financial Obligations:
| | | | |
| --- | --- | --- | --- |
| Name of Debt | Initial Debt Issuance Amount | Maturity Date | Interest Rate |
| Series 2016 | $4,660,000 | Dec. 1, 2046 | 2.625% |
The main function of the Cathedral Pines Metropolitan District is to collect tax revenue to pay off the current Long Term Debt and provide operations and maintenance to the Lodge as well landscape maintenance throughout the District owned by the District. At this time, the District is not anticipating providing any other primary functions.
The District currently owns the Lodge, ponds, maintenance shed, trail system, and landscape tracts. *See map for a visual of property owned by the District.
If you have any questions, please contact our District Manager, WSDM - District Managers at (719) 447-1777.
Click Here or visit the Board Meeting Information page for regular meeting information including dates, times, and agendas.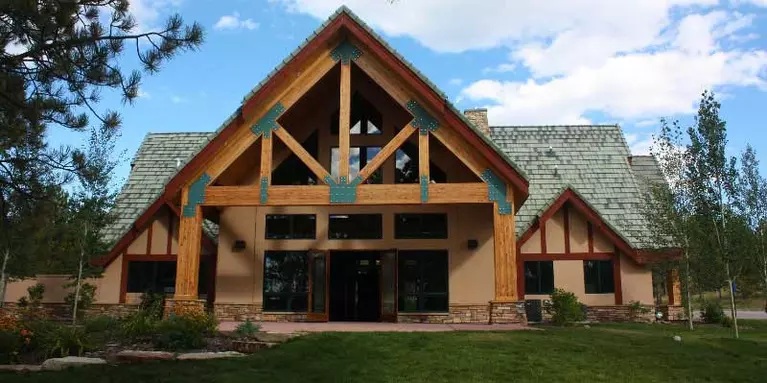 The Lodge at Cathedral Pines
What's New in Cathedral Pines!
NOTICE OF SPECIAL MEETING BOARD OF DIRECTORS Friday, May 26, 2023, at 8:30 AM (MST) - Virtual ONLY -
The Cathedral Pines MD May 8th Board meeting has been rescheduled for Monday, May 15th at 10:00 AM.    Regularly scheduled meetings of the Board of Directors are held at The Lodge at Cathedral Pines, 13977 Milam Road, Colorado Springs, CO 80908 and virtually via via video teleconference.  Virtual Meeting Instructions:
Both the Metro Board and WSDM – District Managers have been aware for some time of the problem with the Cathedral Pines monument lighting at the intersection of Milam and Shoup Roads.  One of the two solar lights has been either str